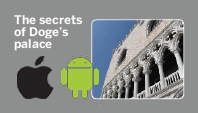 The FREE APP for iPhone and Android about the Secrets of the Doge's Palace of Venice
Formerly the Doge's residence and seat of the Republic of Venice, the Doge's Palace is the very symbol of the city. Once in Venice, a site not to be missed, now you can also enjoy the Doge's Palace App to discover more about the Palace and its secrets!
This application is not only a unique companion for planning your visit through the rooms of the Doge's Palace, but also the perfect tool to learn more about the Masterpieces, like the Paradise of Tintoretto, or learn about the function of the carved Lion's mouths on the walls, and much more…
The App will guide you in an unexpected way into the rooms of the Doge's Palace, enriching your visit experience with unheard information and unusual tips.
You can find the "Secrets's of the Doge's Palace" App on iTunes and in the Android Market!
At the moment, this application is available only in English language.
DOWNLOAD for Free the Doge's Palace App via iTUNES >>>
DOWNLOAD for Free the Doge's Palace App via ANDROID MARKET  >>>
Watch the preview of the APP: