Special Tour
The Secret Itinerary through the Doge's Palace covers the rooms and chambers where the delicate work of some of the most important bodies in the Venetian administration and justice was carried out. The tour offers an interesting insight into the civil and political history of the Venice Republic. 

BOOK NOW YOUR VISIT. A qualified guide will take you through the suggestive secret itineraries tour! [...]
Multimedia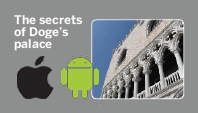 The Doge's Palace is proud to introduce its first FREE APP for iPhone and Android, to discover its secrets!