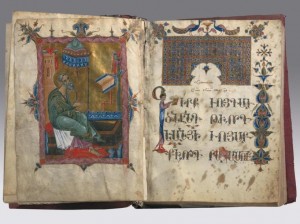 The archive functions as a photographic library, with two main sections of materials:
1. "Museums", with reproductions of artworks belonging to the Musei Civici di Venezia
2. "Various collections", with reproduction of various works, landscape reproductions of the city of Venice and artworks of other museums out of the Musei Civici di Venezia.
It also provides a reproduction service of images of works belonging to the Musei Civici di Venezia. Anyone, for either studies or personal interest, may consult the archive.
……………………………………………………………………………………………………………………………
Consultation of catalogues
All material is catalogued in files; the archive contains copies of printed works (primarily exhibition catalogues), with reproductions from some of them.
The archive may be consulted during opening hours, upon previous booking.
……………………………………………………………………………………………………………………………
Reproduction services
Reproductions of the works belonging to the VMA can be made either from the material already present in the Archive or by commissioning new photographs.
Users can fill the requested form online, directly at the office at Museu Correr,or downloading and return it via fax, mail or email to the Photographic Archive.
FILL ONLINE THE FORM TO REQUEST IMAGES >>>
According to the material and the digital image's typology requested, the total cost of reproduction will be calculated, along with the eventual tariff on the image's use rights. Images are not available for rent. The acquisition of photographs on the various museums of the Fondazione is reserved to the personnel.
Costs and Rights for Reproduction and Publication of Images (PDF 40,4 KB) >>>
……………………………………………………………………………………………………………………………
Television, cinema and digital shootings
It is possible to have television, cinema and digital shootings for half a day, an entire day or even for more than one day in specific times.
The fees and supplementary costs arising from the shooting organization are all to be borne by the client. Fees and methods of payment will be communicated after your request.
DOWNLOAD THE REQUEST FORM FOR SHOOTING REQUESTS >>>
Send your shooting request via e-mail at eventi@fmcvenezia.it
……………………………………………………………………………………………………………………………
Exemptions
The Director of the Fondazione dei Musei Civici di Venezia reserves the right to waive payment of film and reproduction rights if the final aim is to broaden and improve knowledge and awareness of the Venetian museums. A similar waiver applies for study research, university graduation thesis, tourist promotional material and other specific cases.
……………………………………………………………………………………………………………………………
Information
Photographic Archive
Fondazione Musei Civici di Venezia
St. Mark's Square, 52 *
30124 Venice

Phone: +39 041 2405211
Fax: +39 041 5200935
Email: archiviofoto@fmcvenezia.it
* Entrance from St. Mark's Square 52, Procuratie Nuove, close to Caffè Florian